Dean's Message
Dean's Message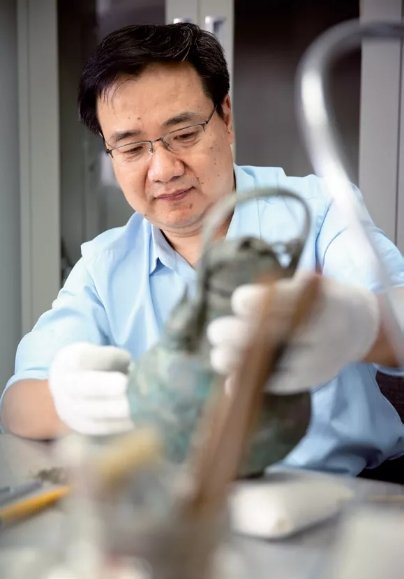 Dear friends,
Welcome to the website of School of History and Culture, Shandong University! I 'm proud of our school and university, and the following is what I'd like to introduce:
(1) As a high-level Chinese university with strong academic strength and distinctive characteristics, Shandong University, founded in 1901, is one of the oldest national universities in China, which is a key university directly under the ministry of education of the People's Republic of China and is in the list of "Project 211", "Project 985" and national "Double First-Class" Initiative. With comprehensive subjects, strong academic strength and distinct characteristics, Shandong University is a high-level and key university that is dedicated to the study, inheritance and innovation of Chinese traditional culture.
(2) Shandong University has an ideal location and rich cultural deposits. Our university is located in Shandong province, the birthplace of Qi-LU Culture and the hometown of Confucius. With large-scale economy and population and prosperous culture, Shandong province enjoys economic and social prosperity, and has unique advantages in history and culture. Shandong University faces the Yellow Sea in the east and Mount Tai in the south, has a beautiful natural environment. The School of History and Culture is located in Jinan, which has the reputation of "Spring City" and close to Daming lake, Baotu spring, Qianfo hill and Chengziya ruins (naming place of "Longshan Culture").
(3) The style of study in Shandong University is excellent, and the quality of talent training is well acknowledged by society. Due to the cultivation of quality education system and the influence of Confucian culture, our students, faculty and staffs are very smart, diligent and aspirant. Young students work very hard in study and work, which won the praises from government, public institutions and enterprises. We insist on cultivating people with virtue and strive to promote students' talents and lay a good foundation for their long-term development in society.
(4) With distinctive features, the history discipline and archaeology of Shandong University has of great influence in the international academic field. History discipline has always been a flagship and landmark one of Shandong University, which is famous for mastering literature and history. The history discipline of Shandong University began in 1901 when the university was founded, and developed a splendid tradition of research in the field of "literature and history" in Shandong University. Archaeology was added in 1972. In 2015, the school successfully hosted the 22nd International Congress of Historical Sciences, which is known as the "Historical Olympics".
You can learn more about the development of our school through our website.
At present, the School of History and Culture, Shandong University, is actively carrying out talent introduction, international academic exchange and cooperation. We have a very good platform for teaching and scientific research. I believe that we can achieve win-win results through friendly cooperation.
Sincerely,
Dr. Fang Hui
Dean, School of History and Culture, Shandong University
尊敬的各位朋友:
欢迎您访问山东大学历史文化学院网站!我为我们的学校和学院而感到自豪。下面,请允许我向您简要介绍有关我们的学校和学院的一些情况:
首先,这是中国的一所实力雄厚、特色鲜明的高水平大学。山东大学是中国历史最悠久的国立大学之一,创建于1901年。学校目前是中华人民共和国教育部直属重点大学,同时被列入国家211工程、985工程和"双一流"建设计划,是一所学科综合、学术实力雄厚、特色鲜明的高水平大学,是中国传统文化研究和中华优秀传统文化传承创新的重点大学。
第二,学校的地理位置非常优越,文化底蕴十分深厚。山东大学地处齐鲁文化发祥地山东省,山东省是中国经济大省、文化大省、人口大省,经济社会繁荣,在历史文化方面具有得天独厚的优势。学校东临黄海,南望泰山,自然环境优美,处在孔子故里,具有深厚的文化底蕴。历史文化学院座落在具有"泉城"美誉的济南市,距离大明湖、趵突泉、千佛山、城子崖遗址("龙山文化"命名地)等地都比较近。
第三,山东大学的学风非常好,人才培养质量深受社会好评。也许是受到优质教育体系的培养和儒家文化的熏陶滋养,我们的学生和教职员工都非常聪明、勤奋、上进,青年学生在学业和工作中都非常努力,赢得了机关、企事业各类用人单位的广泛好评。我们坚持立德树人,努力促进学生成长成才并为其在未来社会上的长远发展打下良好基础。
第四,山东大学的历史学科与考古学具有显著的特色,在国际学术领域有重要影响力。历史学科始终是以"文史见长"而著称的山东大学一个旗帜性和标志性的学科。山东大学的历史学科肇始于学校初创时的1901年,在历史研究中形成了"独断之学"与"考索之功"并重的学术风气,奠定了山东大学"文史见长"的办学传统。1972年增设考古学专业。2015年,山东大学历史文化学院成功举办了享有"史学奥林匹克"之称的第22届国际历史科学大会。
您还可以通过我们这个网站了解我们学院更多的发展情况。
目前,山东大学历史文化学院正在积极开展人才引进、国际学术交流与合作,我们有非常好的教学科研平台,真诚地欢迎和期待世界各地的学者来我院访问交流,同时欢迎各国青年学子来我院学学习。我相信,我们可以通过友好合作实现共赢。
山东大学历史文化学院院长、教授 方 辉